Computed tomography (CT) is an imaging procedure that uses special x-ray equipment to create detailed pictures, or scans, of areas inside complex castings or manufactured parts. It is also called computerized tomography and computerized axial tomography (CAT). CT or CAT scanning can be used in a variety of fields from casting and manufacturing to the dental and medical industry.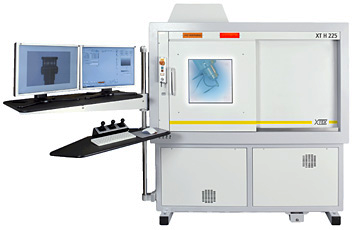 XT H 225 Industrial CT Scanner
XT H 225 Industrial CT Scanner
For all-purpose X-ray and CT inspection
The entry-level XT H 160 and the versatile XT H 225 systems offer a microfocus X-ray source, a large inspection volume, high image resolution and is ready for ultrafast CT reconstruction. They cover a wide range of applications, including the inspection of plastic parts, small castings and complex mechanisms as well as researching materials and natural specimens.
Applications:
Automotive
Electrical connectors
Injection nozzles
Sensors (e.g. Lambda sensor)
LED light pipes
Small high-pressure die casting parts
DPF (Diesel Particulate Filter)
Aerospace
Wax turbine blades
Cast turbine blades
Crack analysis in components
Weld analysis
Plastic injection molding
Complex plastic components (e.g. fan)
Soft, translucent materials where tactile or optical is no option
Ultrasonic welding of plastic parts
Pharmaceutical/medical
Medicine dispensers
Small instruments
Small plastic or composite parts
Bone structures
Research
Material verification and analysis (e.g. structure, porosity, defects)
Paleontology (e.g. bones, skulls, fossils)
Geology and soil science
Archeology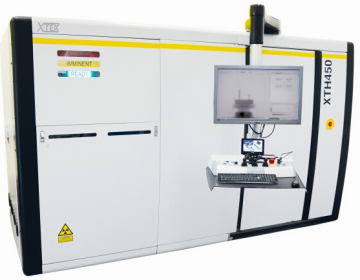 XT H 450 Industrial CT Scanner
Micro-focus X-Ray and CT system for turbine blade and casting inspection
The XT H 450 system offers the necessary source power to penetrate through high density parts and generate a scatter-free CT volume with micron accuracy. The system is available with a flat panel or a proprietary Curved Linear Array (CLA) detector that optimizes the collection of the X-rays without capturing the undesired scattered X-rays.
This linear detector realizes stunning image sharpness and contrast by avoiding image pollution and associated contrast reduction. 450kV and the CLA are ideal for the inspection of small to medium metal alloy turbine blades and casted parts.
Applications:
Automotive
Electrical connectors
Injection nozzles
Sensors (e.g. Lambda sensor)
LED light pipes
Small high-pressure die casting parts
DPF (Diesel Particulate Filter)
Aerospace
Wax turbine blades
Cast turbine blades
Crack analysis in components
Weld analysis
Plastic injection molding
Complex plastic components (e.g. fan)
Soft, translucent materials where tactile or optical is no option
Ultrasonic welding of plastic parts
Pharmaceutical/medical
Medicine dispensers
Small instruments
Small plastic or composite parts
Bone structures
Research
Material verification and analysis (e.g. structure, porosity, defects)
Paleontology (e.g. bones, skulls, fossils)
Geology and soil science
Archeology