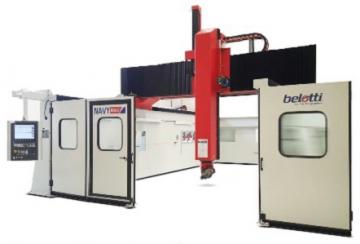 NAVY SERIES 5-AXIS MACHINING CENTER
NAVY series consists of 5-axis advanced machining centers especially designed for shipyards specific needs. A wide range of models and cutting heads enable to meet any kind of dimensional and technological requirement. The shipyards who chose Belotti's Navy machining centres incremented their constructive quality and efficiency shortly; furthermore, the quality of working environment has greatly improved, thanks to the various accessories offered with the machining center, such as effective dust suction equipments and active/passive safety systems.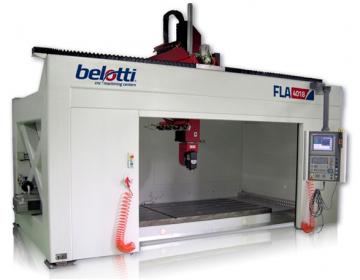 FLA SERIES
The new generation of CNC machining centres FLA series combines the productivity of a milling machine to the high speed and potential of a moving bridge machining center. It is characterized by high dynamics with all axes; it also features customizable revolver or tool changer heads to ensure maximum productivity for sector specific needs. All this comes with an ideal price/performance ratio. 80 m/min rapid speed along with up to 0.8 g of X -Y -Z axis acceleration represent the necessary requirements for trimming plastics, composite ( such as carbon fiber, fiberglass and kevlar) and wooden materials, as well as for machining light alloys. The modular-designed extensible magazine is usually equipped with 8 stations for HSK 63F and HSK 63A tool holders and can be widely customized. Among the various optionals, automated loading/unloading systems (rotary tables and parallel shuttles) enable a quick machining center setup. Belotti's FLA is the ideal partner for milling of resin / aluminium models and moulds and for high quality trimming of composite and plastic materials.