Waterjet technology utilizes a high pressure stream of water to erode a narrow line in the workpiece. To cut a wider range of materials like tool steel or titanium for example, an abrasive is added to the waterjet, increasing the cutting power. The abrasive is added at the nozzle, which makes it simple to switch between water only and abrasive waterjet cutting. This flexibility greatly enhances the versatility of a waterjet machine.
MACH 100
The Mach 100 is the essential waterjet that gives you the fundamental versatility of waterjet cutting with no frills. Engineered with the same components as Flow's premium cutting solutions, the Mach 100 features robust cutting capabilities and a programmable Z-axis for added flexibility. Everything you want, exactly what you need.
Featuring rigid machine construction, precision motion system, and auto-lube system, the Mach 100 is built for premium accuracy and long life.
Backed by genuine Flow support, with the Mach 100 you have a complete cutting solution. FlowCare protects your investments and maximized waterjet uptime.
Designed for flexibility, the roll-around control allows you to move around your waterjet with ease.
Rapid Traverse Maximum
Up to 10m/min
Linear Straightness Accuracy
±0.13mm/m
Repeatability
0.064mm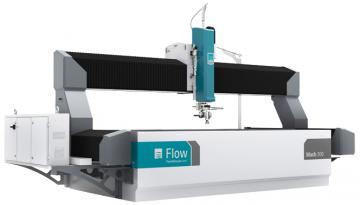 Mach 300
Move Forward
The Mach 300 is purpose-built to deliver reliable performance that you can depend on. The system is a no-nonsense waterjet solution that is efficient and practical. Combining advanced Flow waterjet technology into a small package, the Mach 300 minimizes impact on shop floor space - and your wallet.
Rapid Traverse Maximum
12 m/min
Linear Straightness Accuracy
± 0.0762 mm/m
Repeatability
+/- 0.0635 mm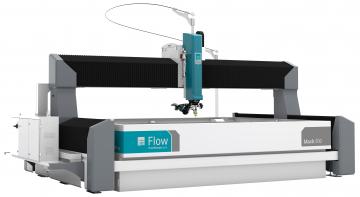 Mach 500
Make More
The Mach 500 is unmatched in accuracy, quickness and speed, making it your most productive solution. The system is revolutionary in terms of reliability and productivity, backed by the only comprehensive service program in waterjet. Uniquely flexible, the Mach 500 can be everything you want, or just what you need.
Rapid Traverse Maximum
17.8 m/min
Linear Straightness Accuracy
±0.0381 mm/m
Repeatability
±0.03 mm