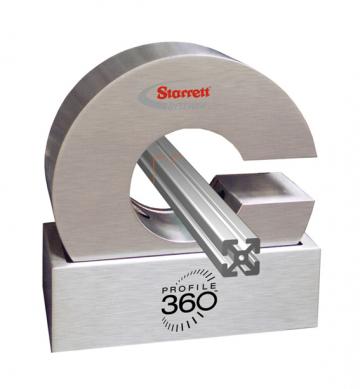 P360-10 Real-Time Profile Measurement System
Profile360 is an in-line, real-time measurement system for continuously monitoring key profile dimensions in complex shapes such as rubber, plastic, ceramic, and wood-plastic composite extrusions, roll-formed metal profiles, and profiled wire. Profile360 employs CrossCheck laser line sensors manufactured by Bytewise to acquire thousands of data points around the profile and match them a CAD template where key measurement parameters such as width, thickness, radius, and angle are extracted. Measurement parameters are compared to allowable control limits and displayed on the operator's terminal with a green/yellow/red (pass/caution/fail) status indicator. Profile360 runs at rates up to 14 profiles per second. Profile360 is available in sizes of 10mm, 25mm, 50mm, 75mm, 100mm, 150mm, all with circular field-of-view. Custom systems can be built up to 500mm.
Features
- C-Frame Design provides the user to install and remove the system without interrupting production
- Run Mode feature allows the system to be run continuously at a clock frequency or be triggered from an encoder or relay contact
- Communication Interface communicates measure values to external systems by Modbus TCP or OPC Server
- Analog Output Option streams analog measure values to external systems
- Alarm Option features an alarm via red/yellow/green light tower with horn
- Support Rollers support extrusion through the measurement system to prevent profile distortion
- Light Shroud feature prevents measurement error due to light interference
- Rotatable Sensor Head rotates the sensor head to an optimum viewing angle for each profile
- Angle Indicator permits accurate alignment of rotatable base to profile
- Drain Holes permit drainage of water from sensor head
- Stainless Steel Construction ensures reliable service and long product life in harsh environments
- Registration feature provides fast and easy automatic calibration and alignment checking
- Optical Comparator Display compares a measured profile to a CAD template same as a 10X Optical Comparator
- Caliper Tool Bar measures thickness, width, angle, radius, radius center point, bump, link, line regression, and formula
- Matching feature compares a measured profile to the design template (CAD file)
- Multiple Profile Matching automatically matches multiple profiles that move independently
- Sub-Region Matching matches partial segments of flexible profiles to a CAD template independently
- Measurement Display displays real time value, trend chart, Cp, cpk, mean, and histogram
- Data Logging records all measurements to a data log file
- Report Printing feature prints a Quality Report for each run
Accuracy: 0.06%
Repeatability (3s): 0.03%
Laser Frequency, Maximum: 14 Hz
Exposure Time, Typical: 0.03 sec
Current at 230V: 5 A
Laser Classification, CDRH: IIIa
Laser Classification, IEC: 3R
Low Voltage Directive: Yes
EMC Directive: Yes
Machinery Directive: Yes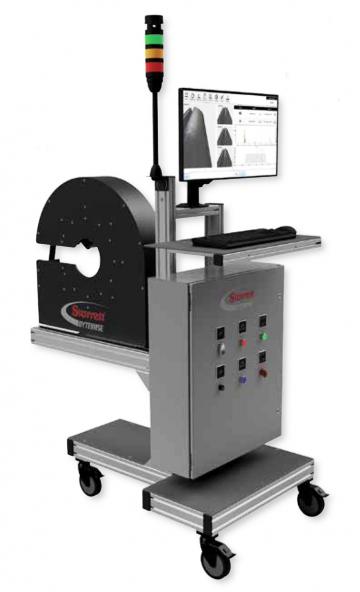 Surface 360 - 3D Surface Flaw Detection System
Surface360 from Starrett-Bytewise is a breakthrough in surface inspection technology. Surface360 is an inline inspection system that digitizes the extrusion and measures the true surface geometry in real-time.
Surface360 delivers an exciting alternative to existing technology. It is built upon the industry-leading high-speed laser triangulation capabilities of Starrett- Bytewise's profile measurement platform, Profile360. Because most surface defects in extrusion are actually small deformations, indentions, or protrusions of the profile, the method used by Surface360 results in more accurate detection of surface flaws.
- High-speed laser triangulation
- Inspects geometrical deviations
- View 3D image in real-time
- Detect flaws down to 0.5mm
Product Type: Surface Flaw
FoV: Up to 150mm
Frequency: 1,200 Hz
Laser Classification, IEC: 3R IEC 60825-1
Laser Classification, CDRH: IIIa CDRH
Low Voltage Directive: 2014/35/EU (LVD)
EMC Directive: 2014/30/EU (EMC)
Machinery Directive: 2006/42/EC (MD)
Hazardous Substances: 2011/65/EU (ROHS)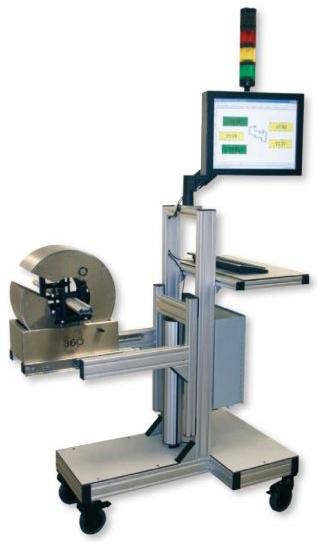 Profile 360 Industrial Mobility Package
The Profile360 Industrial Mobility Package has been employed by large extrusion operations during line set-up so that one unit can serve multiple lines. The in-line measurement provides instant information to help the operator tune-in the extruder, calibrator, and down-stream equipment, and to assure all dimensions are stable before moving on to the next line.