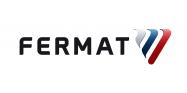 WFT 11 - Table Type
With Siemens, Fanuc, Heidenhein control 
Horizontal Boring Mill WFT 11 CNC is a smaller version of Fermat Bestseller machine WFT 13 CNC. The ball screw of Y Axis (diameter of 63 mm) a rigid column made of grey cast iron and a powerfull spindle with a diameter of 110 mm guarantees the quality of this machine. The high accuracy of WFT 11 is supported by the use realiable components such as Heidenhain linear scales or a monitoring and stabilizing temperature systems. Moreover the high positioning precision is achieved by two servo´s on the axis that prevent a backlash of the table (part of a standard configuration).
Machine Axes - WFT 11 CNC offers four linear (X,Y,Z a W) and one rotary axis (B). A full servo rotary table option allows  continuous B-axis rotation (contouring) simultaneously with X, Y, Z, or W axes.
Machine Design:
Modular design lets our customers configure the machine to their requirements.
X-axis travel 1200, 1600, 2000, 3000mm
Y-axis travel from 1200, 1700, 2000mm
Z-axis travel 1000 or 1200mm
CNC rotary table is offered in two dimensions:
1250 x 1400mm (maximum load 8t)
1400 x 1600mm (maximum load 8t)
Spindle parametres:
Rated Power of main Motor: 17, 22kW
Range of Spindle Speed: 10 - 3000*/min
Extension Spindle Travel: 730mm
3 000*RPM up 500mm spindle stroke, >500 spindle stroke electronically reduced at 2000RPM