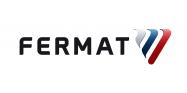 WFC 10 - Table Type
| | | |
| --- | --- | --- |
| Units | WFC 10 | WFC 10 L |
| Spindle diameter | mm | 100/110 |
| Spindle taper |   | SK 50 (ISO 50) / BT 50 / CAT 50 |
| Spindle speed (max.) | rpm | 4000 |
| Main Power Heidenhain or SIEMENS CNC (S1/S6) | kW | 19.5 / 29.3; 30 / 45.5 |
| Max. Torque Heidenhain or SIEMENS CNC (S1/S6) | Nm | 951/1426; 1416/2124 |
The WFC 10 CNC machine is a new model of horizontal boring mill equipped with a spindle diameter of 100 mm. It is the smallest horizontal boring machine from the Fermat production suitable for machining for machining of smaller and medium sized work pieces up to 3000 kg. WFC 10 CNC is built in a standard configuration with a fixed column, moveable spindle and crosswise moveable rotary table. Due its high reliability, high cutting performance with easy of operation. The combination of operator friendly, high cutting performance and lower cost makes the WFC 10 CNC very popular with our clients. WFC 10 CNC is optionally equipped with the Automatic Tool Changer (ATC), Coolant Through Spindle, Chip Conveyor or Automatic Pallet Changer System (APC).
Machine Parameters:
Control Systems - Heidenhain iTNC 530/ Fanuc 31i / Siemens 840D
Machine Axes - WFC 10 CNC offers four linear (X,Y,Z a W) and one rotary axis (B). A full servo rotary table option allows continuous B-axis rotation (contouring) simultaneously with X, Y, Z, or W axes.
Machine Design:
Modular design lets our customers configure the machine to their requirements.
X-axis travel 1 250/ 2 000 mm
Y-axis travel from 1 250/1 700 mm
Z-axis travel 1 250 mm
CNC rotary table is offered in two dimensions:
1 000 x 1 120 mm
1 200 x 1 400 mm
Spindle parametres:
Rated Power of main Motor: 17, 22kW
Range of Spindle Speed: 10 – 3000*/min
Extension Spindle Travel: 730 mm
3 000* RPM up 500 mm spindle stroke, >500 spindle stroke electronically reduced at 2 000 RPM