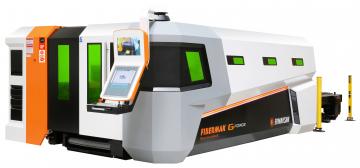 Fibermak G Force
Fibermak G-Force is designed with the servo motor concept - a machine equipped with a servo motor can reach up to 4G acceleration with its rigid bridge as a result of dynamic analyses and its perfect design. Thanks to the high acceleration that provide great advantages while switching between parts, production time is decreased and efficiency is increased by 15% per hour on average. The more complex the part to be processed, the greater the productivity.
Produced by using long-life and high quality components together with its strong body structure, Fibermak G-Force is designed to operate continuously and precisely even under the most severe conditions.
Machine Axes
4-Axes (X,Y,Z,U)
Max X,U Axes travels
3050mm
Max Y Axis travels
1530mm
Max Z Axis travels
150mm
Max Worksheet Dimensions
3000 x 1500mm
Max Burden Capacity
1500kg
Max Cutting Capacity

Mild Steel - 16mm
Stainless Steel - 8mm
Aluminum - 6mm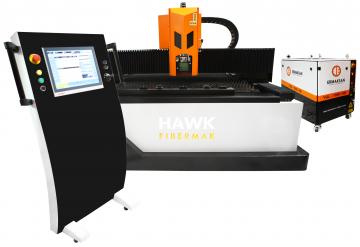 Hawk Fibre Laser Cutting Machine
Eco-solution for low budget, high performance expecting customers.
The Hawk Laser offers an open table design which allows the operator full access to the cutting table. The Hawk is a great option for companies looking for a entry point machine with the build and robustness of a heavy machine. Suitable for the following industries: sign manufacturing, light production manufacturing, Architecture, Aerospace, and Custom Job Shops. Material types: Stainless, Aluminum, Steel, Brass, and copper.
Cutting Head
Manually Adjustable Focus Lens I Precise Height Control I Lower Protection Glass
Control Panel
Resistant to various environmental conditions; shock, dirt, humidity, temperature, etc I Touch screen and an external keyboard is available I The axis speed can be controlled with the speed adjustment potentiometer on the control panel I NC graphic display.
| | |
| --- | --- |
| Control type | NC |
| Configuration | 3-axis |
| X-Axis travel  | 3050mm |
| Y-Axis travel | 1530mm |
| Cutting speed |  106000mm/min |
| Cutting Dimension |  1.5m x 3m  |
Cutting capabilities of 6mm MS by Ermak 500W, 10mm MS by Ermak 1000W resonators.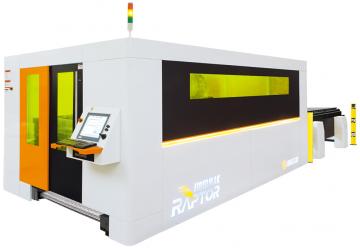 Fibermak Raptor Fibre Laser Cutting Machine
The Raptor Fiber Laser was produced as an alternative solution to the standard Fibermak model without any compromise in cutting quality. Compact, modular and ergonomic design.
General Features
Modular and ergonomic design I 0.5G acceleration and 50m/min speed I Extraction Unit I Conveyor I Loading Unit I 15" touch screen controller I Servo motor technology I High precision cutting head I Standard 500W and 1kW laser unit
Cutting Head Features
Manual adjustable focal lens I Precise height control I Protection Glass I Piercing air system
| | |
| --- | --- |
| Material | Stainless steel, for steel, for aluminum, for copper, for brass |
| Control type  | CNC |
| Configuration  | 3-axis |
| Other characteristics | High-precision, modular, with servo-motor |
| X-Axis travel  | 2050mm, 3050mm |
| Y-Axis travel | 1270mm, 1550mm |
| Cutting speed | 70000mm/min |
| Laser power  | 500W, 1000W, 2000W |
| Z-Axis Travel | 152mm |
| Load capacity  | 600KG |
| Work Area  | 3000 x 1000mm |
| Laser source options | 500W, 1kW or 2kW |