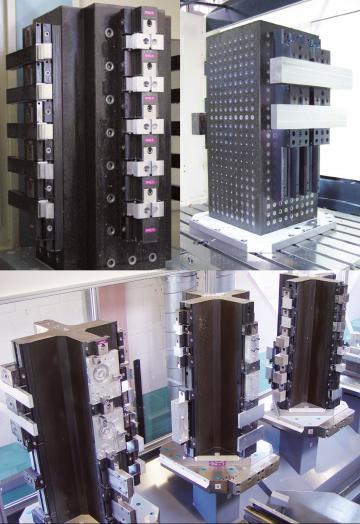 tripoxyMINERAL
Epoxy mineral and steel epoxy mineral tombstones
- Light: The specific weight is less than that of aluminium
- Vibration damping 10x better than that of grey cast iron
- Slower thermal growth
- Predetermined breaking point in case of collision
- Does not rust
- Boreholes M12/12G6
- Base plates according to machine specification
tripoxyMINERAL are light, and therefore machine-preserving, mineral epoxy tombstones that can be used as an alternative to heavy cast iron or steel tombstones. Due to increasingly quick horizontal machining centres, weight reduction of the load is an important factor.
Triag International AG has been offering epoxy mineral tombstones for a few years. They consist of a mixture of crushed stone and an epoxy bonding agent. They feature a reduced specific weight compared to aluminium and their vibration damping is ten times better than that of grey cast iron tombstones. This means that high feed rates can be used when machining in the upper area of the tombstone. In certain cases, for example when workpieces are clamped directly onto the tombstone (without base rails), a steel enclosed epoxy mineral tombstone can be the right solution.
Contact us to find the perfect solution. With standard offers and our modular powerCLAMP system, we will provide inexpensive solutions for your needs.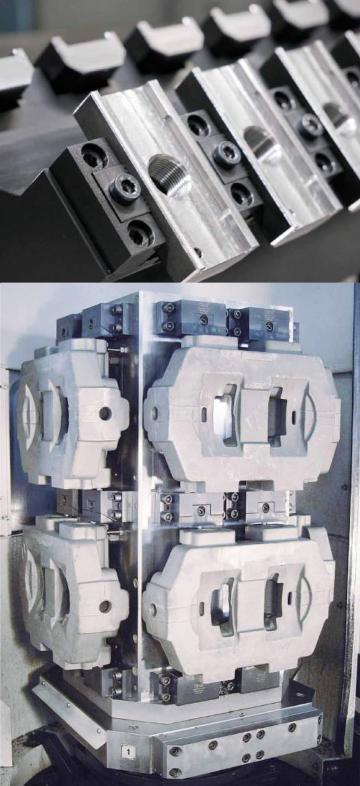 microCLAMP
Clamping modules for fixture construction - with high clamping density
- Compact clamping modules allow for a high clamping density
- Only 15 mm needed between workpieces
- Direct stamping modules from clamping depth 1.8 mm
- Clamping stroke from 1.5 mm
- Clamping force up to 2800 daN
- Exact positioning with locating screws and locating pins
- Clamping module widths: 22 – 125 mm/depths 14 – 50 mm
- Pull down jaws and linear jaws available
These small microCLAMP clamping modules are well suited for fixture construction. The clamping modules have a pull down jaw on the front. The rear side is ground accurately to the size of the fastening bores. This allows the stop surface to be used for the subsequent workpiece. This alignment allows for an extremely high clamping density. The smallest microCLAMP module requires a clamping distance of only 15 mm but the clamping force is still 1000 daN.
This clamping system is designed for customer-specific special devices that emphasise highest workpiece density in the working space of machining centres. The modules generally have a pull-down effect. However, modules with linear parallel infeed for vice-like clamping are also available.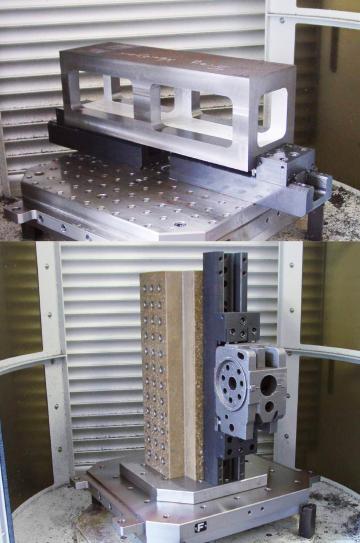 aptoCLAMP
Modular clamping system for heavy roughing
- Very stable, robust construction and therefore high precision
- Modules can be taken off from above, no extension necessary
- No T-grooves that could become contaminated
- Interlocking positioning
- Gearing not exposed to the workpiece
- Pull down and linear clamping possible
- Clamping force up to 7'000 daN
aptoCLAMP is a further development of the powerCLAMP system: it is used to machine workpieces produced by means of heavy roughing, which can be very large and weigh up to several thousand kilograms. It is also based on a base rail.
In addition to using transverse gearing for positioning the clamping modules, aptoCLAMP also has an anchoring system for locking on the longitudinal gearing. This right-angle wedging allows high stability even for heavy plates or blocks. The clamping modules rest on a surface that has been ground with precision. This allows the clamping module to be extremely friction locked and precisely affixed at the base rail. However, clamping modules can easily be moved along the base as needed. Just as with the powerCLAMP system, when exchanging modules, they can simply be lifted off from above and must not be  extended from the rail.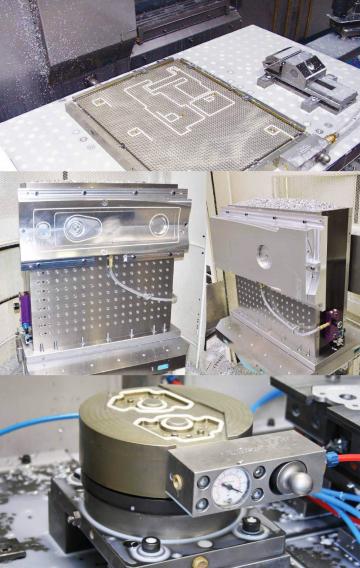 trivaCLAMP
Vacuum clamping
- Ideal for plate-shaped and even non-magnetic workpieces
- Modular design – walls on the side also available
- No pressure marks or deformations on soft parts
- Minimal vibrations
- Quick reclamping
- High degree of efficiency due to special workpiece support
Vacuum clamping with the trivaCLAMP system is suited for gentle and even clamping of bulky workpieces, plates, U-shaped or angle sections and thin-walled workpieces. Pressure marks and deformations that come with mechanical clamping can also be avoided in this way. When using vacuum clamping, the surrounding atmosphere applies pressure onto the workpiece. Workpieces are affixed to the entire surface, which largely prevents vibration. Simple loading and a free working space are additional advantages.
trivaCLAMP consists of vacuum clamping plates and a vacuum pump and is used for utilisation of entire machine tables, for disc-shaped workpieces as well as for small and moulded parts (adapter plates). Additional steep walls allow lateral workpiece clamping.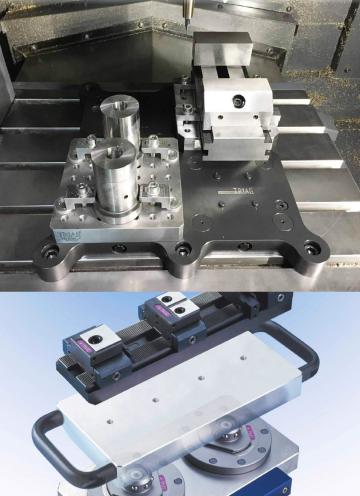 oppSYSTEM
Zero point clamping system – for quick reclamping
- Exact positioning on the machine table
- Shorter machine downtimes
- Exchanging pallets within seconds
- Automated loading and unloading
oppSYSTEM is a palletising system: A pallet carrier mounted on the machine table of the machine tool and at least two pallets or workpiece carriers equipped with centring and clamping bushes. The interface between pallet carrier and pallet makes it possible to quickly (within seconds) exchange the pallets, onto which the workpiece that is to be machined is mounted and positioned outside of the machine tool. This increases the productivity of the machine and thereby the profitability of the entire company.
The design also makes automated loading and unloading via a feeding device possible. The oppSYSTEM is one of the most precise zero point clamping systems: 750,000 clamping operations without reference loss are possible with oppSYSTEM. Pneumatic release with approximately 6 bar.

triCENTRO
- Wide range of self centring vice
- Large selection of false jaws
- Can also be used flexibly with powerCLAMP system
- Pneumatic clamping vice for use with robots
Triag International AG offers a wide range of self centring vice. In addition to the self-centring vice that fit onto the rail systems powerCLAMP and aptoCLAMP or the zero point system OPPsystem, mechanical self centring vice are also available.
Centric clamping with powerCLAMP: In order to meet various requirements and machining tasks, the self centring vises can be rotated 90 degrees. Just like all modules of this series, the self centring vice can easily be positioned along the rail in 2-millimetre increments. The compact and closed construction protects the self centring vice from contamination.
Different false jaws and stamping jaws are available for all self centring vice.
Modular self centring vice: The modular self centric vice adapts perfectly to the requirements of machine and workpiece. False jaws can be used with the "Type B" model as well as with mechanical self centring vice. Stop modules of the powerCLAMP system can be used with "Type M". This also allows stamping clamping with the universal stamping jaw.
Pneumatic self centring vice: The pneumatic self centring vice allows for the automated clamping and releasing of workpieces – for example with a robot. The clamping system only needs a brief air pulse of 5 to 6 bar for opening and closing. The air connection can then be removed. A sophisticated mechanism provides steady and reliable clamping with a clamping force of between 1400 and 1600 daN. The maximum distance between clamping jaws is 210 mm and the clamping stroke is 4 mm.
These types of self centring vice are used primarily in machining centres that are loaded and unloaded with linear and buckling-arm robots, and that produce unattended during the night shift. Pneumatic operation significantly reduces the times needed to open and close the self centring vices even when setting up manually. That means that production plants run much more efficiently and are more productive while the cost per unit goes down.
The self centring vice are also suited for use with the oppSYSTEM zero point clamping system. The workpieces remain clamped reliably in the working area of the machining centre and when changing the equipped clamping plates. There is no need for air connections via cables that get in the way. It also allows setting up the workpieces that are to be machined on multiple clamping plates with the zero point clamping system outside of the machining centres. The pneumatic system required for operating the self centring vices only has to be connected for a short time in order to clamp and release the workpieces.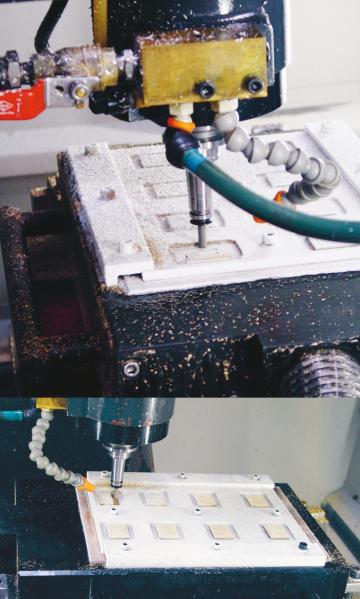 triGEL
Freeze clamping - clamping with ice
- Ideal for bulky parts
- Quick freezing and thawing times
- Very high adhesion
- Also suited for non-metal parts
Freeze clamping is a clamping technique that is primarily used for bulky parts made of metal, most mineral materials as well as plastic. Ice offers excellent adhesion. When using the triGEL system, cold gas is run through the work table's labyrinth of cables and cooled to the working temperature of minus 8 degrees Celsius.  The workpieces and the work table are coated with a fine water film, which clamps the parts in place after freezing in approximately 60 seconds. The process is reversed to loosen the workpieces. The device functions as heating pump. It allows the thawing point to be reached quickly, which releases the workpieces.
With 2 N/mm2, the adhesive force is 10 to 20 times greater than that of vacuum clamping. However, the tolerance for strong, mechanical shocks is smaller. triGEL consists of a connected control box and work table. The standard table sizes are: 100 x 100mm, 100 x 200mm, 200 x 400mm, 170 x 450mm and 500 x 550mm.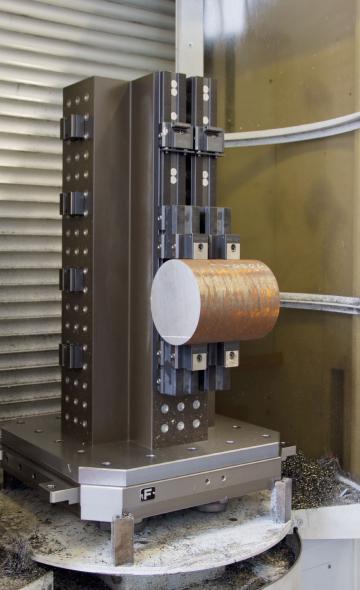 powerCLAMP
Modular clamping system for 5-axis HMC - vertical and conventional
- Quick-adjustable multi clamping system
- Positioning with only 1 screw and via gearing
- Clamping force up to 3000 daN
- Positioning increments 2 mm
- Pull down clamping and linear clamping available
- Clamping stroke 5 mm
- Base rails: length 90 – 800 mm; fastening grids: 40, 50 and 80 mm
- Heights: 35, 60, 80 and 175 mm
- Clamping modules and jaws for direct stamping
powerCLAMP is a modular clamping system in which a rail serves as basis for more than 180 different clamping modules, centric clamps, blanks modules, vacuum modules and magnet modules. It is a mechanical zero point clamping system as well as a vice.
Thanks to the exact gearing with 2 mm increments, clamping and stop modules can be positioned on the base rail quickly and precisely. In contrast to many other clamping systems on the market, Triag uses a 
transversally installed spindle instead of mounting screws. This allows modules to be repositioned quickly, without difficulty and without wasting time. Because the spindle is accessible from both sides, clamping systems can be placed in close proximity to each other. The modules are pulled down onto the base rail with a force of 15 kN from both sides. Because of the absence of T-grooves, the clamping modules can be converted very quickly and cleaning is simple.