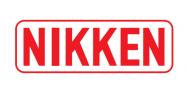 5AX-201 Compact 5th Axis Rotary Table
Code / Item Number
5AX-201
Diameter of Table
ømm
200
Diameter of Spindle Hole
ømm
ø60H7 x ø50
Centre Height
mm
180
Width of T Slot
mm
12
Axis
 
Rotary
Tilting (0o~105o)
Clamping System
 
(Air*) Hydraulic
(Air*) Hydraulic
Clamping Torque
N.m
(303*) 588
(303*) 612
Table Inertia at Motor Shaft
kg m2x10-3
0.11
0.16
Servo Motor
min-1
2/5000 · 2000
4/5000 · 2000
MIN. Increment
 
0.001°
0.001°
Rotation Speed
min -1
22.2
16.6
Total Reduction Ratio
 
1/90
1/120
Indexing Accuracy
sec
20
60
Net Weight
kg
160
MAX Work Load on the Table (0° to 30°)
kg
60
MAX Work Load on the Table (30° to 90°)
kg
40
MAX Thrust Load applicable on the Table
Tilting Angle =0°
9800N
Tilting Angle =0°
L= 100mm F=4900N
Tilting Angle =90°
L1=0mm F1=5880N
L2=100mm F2=2940N
Tilting Angle =90°
FxL = 382Nm
MAX Work Inertia [Vertical]
kg m2
0.5
Driving Torque
N.m
72
 
Nikken's complete line of CNC Rotary Tables is recognised worldwide for wear-resistance, rigidity and high-speed capabilities. Every component is designed & built to provide unrivalled high accuracy, increased
production and a trouble-free long life.
The proven tightening power of the Nikken Ultra-Lock™ Milling Chuck is applied to the brake of the tilting axis of our 5AX-tilting rotary table.
• Virtually eliminates vibration at any tilting angle.
• Provides necessary rigidity for heavyduty operations, including heavy drilling and face milling.