WD HEARN INSTALLS V-60iT AT STRUCMAC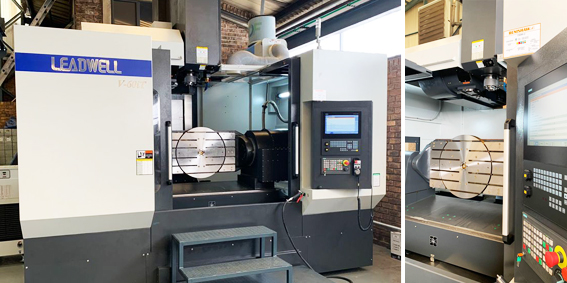 WD Hearn recently installed a Leadwell V-60iT CNC 5-Axis Machining Center at Strucmac in Johannesburg. The machine came complete with Siemens 828D Advanced control and Renishaw NC-4 and OMP-40 systems.
Formed 25 years ago, Strucmac is a South African market leader in precision heavy engineering. The company's manufacturing workshop is an impressive 15 000m² facility in Germiston. StrucMAC sets the trend when it comes to upgrading systems to provide the best possible service and quality to their customer base. Their range of facilities include machines for CNC profile cutting up to 300mm thick, laser cutting up to 20mm thick, plasma cutting up to 50mm thick, flame cutting up to 250mm thick, beveled edges up to 150mm, CNC boring, milling and turning, CNC beam line fabrication, high frequency stress relieving and many more.
Leadwell V-60iT Specifications