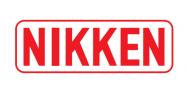 NCT200/NCTZ200 Compact Rotary Table
Code / Item Number
NCT200
NCTZ200
Diameter of Table
ømm
200
200
Centre Height
mm
135
135
Width of T Slot
mm
12
12
Clamping System
 
Air
Air
Clamping Torque
N.m
900
900
MIN. Increment
 
0.001°
0.001°
Rotation Speed
min -1
33.3
66.6
Total Reduction Ratio
 
1/90
1/45
Indexing Accuracy
sec
±20
±20
Net Weight
kg
65
65
MAX Work Load on the Table
 
 
Vertical
kg
100
100
Horizontal
kg
200
100
Driving Torque
N.m
144
115
 
Nikken's complete line of CNC Rotary Tables is recognised worldwide for wear-resistance, rigidity and high-speed capabilities. Every component is designed & built to provide unrivalled high accuracy, increased
production and a trouble-free long life.
The NCT200 features a detachable faceplate system to provide versatility, a larger worm wheel for increased performance and the latest generation motors for simpler integration. The table provides much improved accuracy and a clamping torque of 900Nm, from a 200mm diameter table, the new NCT is the compact rotary to beat!