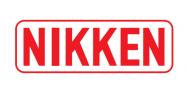 CNC260/Z260 Heavy Duty Rotary Table
Code / Item Number
CNC260
CNCZ260
Diameter of Table
ømm
260
260
Diameter of Spindle Hole
ømm
Ø80H7
Ø80H7
Centre Height
mm
170
170
Width of T Slot
mm
12
12
Clamping System
 
Air / Hyd
Air / Hyd
Clamping Torque
N.m
588 / 1568
588 / 1568
Table Inertia at Motor Shaft
kg m2x10-3
0.33
0.33
Servo Motor
min-1
4/4000i . 2000
4/4000i . 2000
MIN. Increment
 
0.001°
0.001°
Rotation Speed
min -1
16.6
33.3
Total Reduction Ratio
 
1/120
1/60
Indexing Accuracy
sec
20
20
Net Weight
kg
120
120
MAX Work Load on the Table
 
 
Vertical
kg
175
175
Horizontal
kg
350
350
MAX Thrust Load applicable on the Table
N
25480
25480
(F X L) N.m
984
984
(F X L) N.m
3332
3332
MAX Work Inertia [Vertical]
kg m2
3.2
1.6
Driving Torque
N.m
192
153
 
Nikken's complete line of CNC Rotary Tables is recognised worldwide for wear-resistance, rigidity and high-speed capabilities. Every component is designed & built to provide unrivalled high accuracy, increased
production and a trouble-free long life.
The CNC260 is the most versatile 4th Axis Rotary Table Nikken Kosakusho has ever produced.
Manufactured to the very highest standards in our factory in Osaka, this table is commonly used on a wide range of vertical machining centres to provide 4th axis capabilities at a 
minimal cost.
The table can be installed with a standard air brake or can be equipped with a hydraulic braking system which virtually triples the clamping torque to a massive 1568 Nm.
Whatever your fourth axis requirement, this table's versatility could be just the solution you need to make the most of your machining centre.