CNC or Computer Numerical Controls are the operating system or brain of a CNC system. A controller completes the all important link between a computer system and the mechanical components of a CNC machine. The controller's primary task is to receive conditioned signals from a computer or indexer and interpret those signals into mechanical motion through motor output. There are several components that make up a controller and each component works in unison to produce the desired motor movement.
Arumatic - Exclusive to Kitamura Machines
The user interface is the Windows XP operating system, offering the user the ability to simultaneously execute programs while engaging any compatible Windows based software, to include any CAD/CAM systems. A 3-year control components warranty comes standard with purchase.
The Arumatik-Mi control offers the user more practical communication and visible use. Operation processes are divided into three steps, 'Monitor', 'Set-Up' and 'Edit', and necessary information is aggregated into the three screens. These screens can be displayed by just a single touch of a button on the keyboard or touch screen. Customizable tabs allow the user to select necessary operation from the operation menu, and pop-up screens allow the user to access desired information while the original screen remains displayed.
Standard with a 19" LCD and dual keyboard layout (Kitamura conventional style control coupled with standard keyboard design) the Arumatik-Mi control offers comfortable and advanced operation for a variety of machining applications along with the ability to transfer existing Fanuc programs. The operation panel swings out 90º and comes equipped with a standard fixed remote pulse generator, making set-up for the operator easier.
M700 Series
Cutting-edge, full-fledged nano-control
Nano-interpolation for high-quality machining results
Full-fledged nano control for optimum performance
High-speed, high-precision die/mold cutting
SSS Control for stable machining quality    
Increased speed, precision and quality
Optimum Machine Response (OMR) control
OMR-Feed Forward (FF) control for accurate cutting according to machining commands
High-gain Control II improves basic servo system performance
M-DDC function reduces synchronized tapping time and increases precision
A wealth of functions to Support intermixed machining needs
Synchronization Control (milling)
5-axis machining function (milling)
Systems/start point synchronization (turning)
Mixed machining command (turning)
Milling interpolation (turning)
Enhanced operability reduces set-up time
Display of essential information for easy understanding
Pop-up Screens for added ease of use
Program input error warning function
Easy-to-use Menu List display and Help function
Screens developed for optimum ease of use
Communication terminals support easy use and high performance
Standard PCMCIA slot
Advanced-functions model equipped with WindowsXPe
USB port
Superb environmental performance
17 languages supported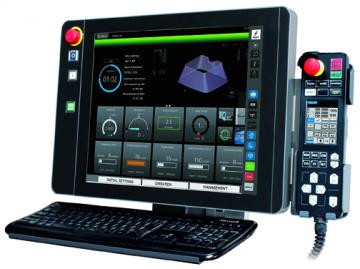 M800
In developing the M800/M80 Series, Mitsubishi went back to the drawing board and completely reexamined their cutting-edge control
technologies. The result is a breakthrough in the control of high-speed, high-precision machining. The M800 has a CNC-dedicated CPU
which not only results in phenomenal processing speed, but also reduces the number of required parts, leading to fewer possibilities of
failure and increasing product quality.
Advanced Design
- Display and keyboard design have been renewed.
- The advanced construction and sophisticated flat profile take machine design to the next level.
- The display incorporates a touchscreen as standard specifications,
- providing intuitive smartphone-like operation (10.4-type and wider displays).
Smartphone-like intuitive touch operation
The display features a capacitive touchscreen that is commonly used in smartphones and tablets, allowing for intuitive and easy
operation. With a simple flick of the finger, for instance, you can monitor the desired part of program, or view and select a menu
key on thenext page without the need for tedious key operation.
M800W - Premium CNC with Windows-based display provides expandability and flexibility
M800S - High-grade CNC well suited to high-speed high-accuracy machining and multi-axis multi-part system control
M80 - Standard CNC provides high productivity and easy operability
Specifications
Specifications
GSM frequencies
900   1800
Dimensions (W x H x D)
89.00 x 45.00 x 22.00mm
                                                 256k colors
                                                 128 x 160 px (0.00")
Talk time (max.)                    
2G: 150 min. (2.5 h)
Stand-by (max.)  
2G: 250 h (10.4 days)
Standard battery
Li-Ion 680 mAh
Phonebook memory
500 places
SAR (10g)                           
0,7 W/kg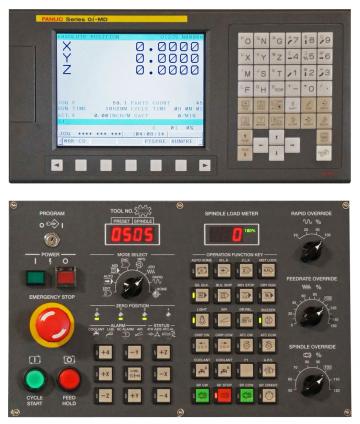 Oi-MD
Oi-MD Features
Digital Servo Function
1 Controlled Path
Simultaneously controlled axes: Up to maximum of 4; 3 if Contouring Spindle Configured
PMC Axis Control
Simple synchronous control
Tandem control
Serial Encoder Interface
Axis Name: Selected from X,Y,Z and U,V,W,A,B,C
Spindle: Up to two Spindles
Least input increment: 0.001mm, 0.001deg, 0.0001inch
Increment system: 1/10 0.0001mm, 0.0001deg, 0.00001inch
Flexible feed gear: Optional DMR
Fine Acc & Dec control
Inch/metric conversion
Interlock: All axes/each axis/each direction/block start/cutting block start
Machine lock: All axes/each axis
Emergency stop
Overtravel
Stored stroke check 1
Stored stroke check 2
Stroke limit external setting
Mirror image Each axis
Follow-up
Servo off
Backlash compensation
Backlash compensation for each rapid traverse and cutting feed
Stored pitch error compensation
Position switch
Unexpected disturbance torque detection function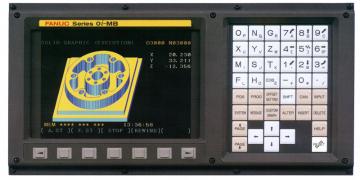 Oi-MB
Oi-MB Features
Digital Servo Function
1 Controlled Path
Simultaneously controlled axes: Up to maximum of 4; 3 if Contouring Spindle Configured
PMC Axis Control
Simple synchronous control
Serial Encoder Interface
Axis Name: Selected from X,Y,Z and U,V,W,A,B,C
Spindle: Up to two Spindles
Least input increment: 0.001mm, 0.001deg, 0.0001inch
Increment system: 1/10 0.0001mm, 0.0001deg, 0.00001inch
Flexible feed gear: Optional DMR
Fine Acc & Dec control
Inch/metric conversion
Interlock: All axes/each axis/each direction/block start/cutting block start
Machine lock: All axes/each axis
Emergency stop
Overtravel
Stored stroke check 1
Stored stroke check 2
Stroke limit external setting
Mirror image: Each axis
Follow-up
Servo off
Backlash compensation
Backlash compensation for each rapid traverse and cutting feed
Stored pitch error compensation
Position switch
Unexpected disturbance torque detection function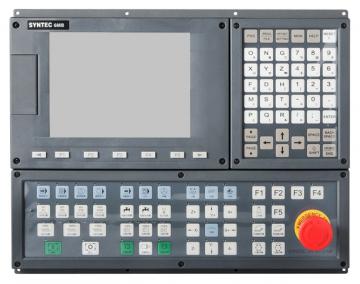 Syntech 6MA
Milling CNC Controller from Taiwan
Ethernet Fast Program Transmission
Alarm history up to 200 Alarms
Production history of last 100 programs
Block processing speed - more than 300 blocks
Online LADDER
Windows based CE Software
Service Interval Reminder and Machine lock feature
Closed Loop SYNTEC CNC Controller
Can be interfaced with any Pulse Input based Servo Drive
HSHP - High Speed High Precision Parameters
Many more features to Explore in SYNTEC CNC Controller